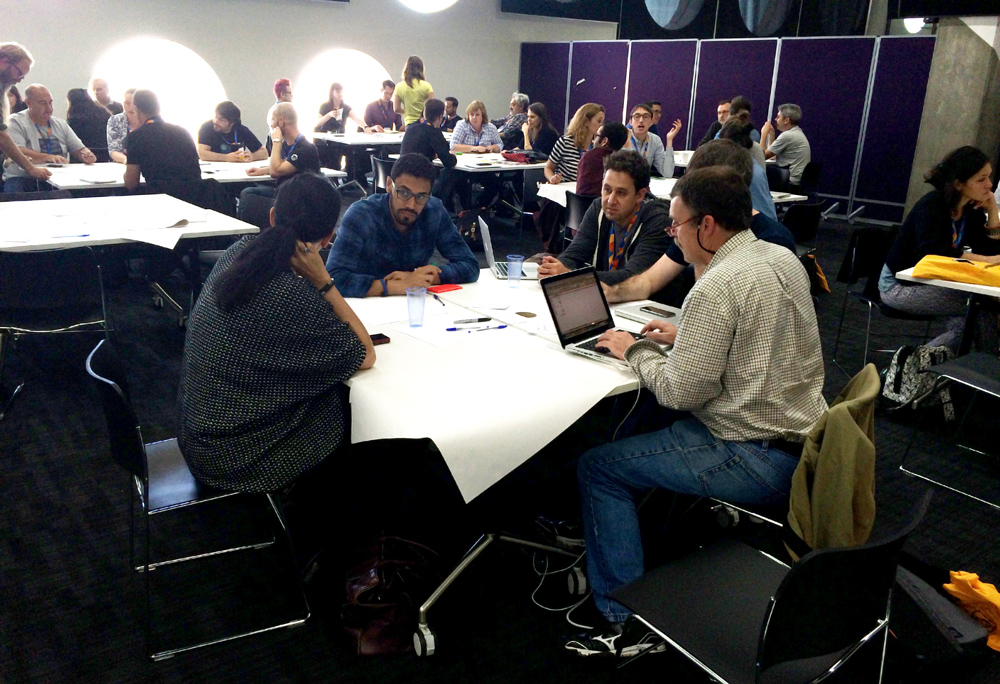 Journalism and the Mozilla Festival 2017
OpenNews is heading back to the Mozilla Festival, a multi-day, annual celebration of the open internet for technologists, makers, educators, and creators in all fields. This year, we're also organizing a full day of journalism-tech sessions on October 26.
OpenNews Unconference on Journalism Tech
This year, the journalism floor from the Mozilla Festival expands to the day before! All day on Thursday, October 26 we'll have hands-on, collaborative sessions from local London journalists and visitors coming to town for the festival.
Participants can register now. Many of the sessions will be scheduled that morning, but we've confirmed a few sessions in advance as well! They include:
François de Montremy of Vogue International talking about the opportunities and challenges engaging with teens through visual storytelling
Emily Goligoski and Sanne Blauw discussing The Membership Puzzle Project and membership strategies for news
Amanda Hickman and Kevin O'Gorman talking about security in the newsroom and the guide they're working on to make it easier if you're the default security trainer in your newsroom, plus they want your feedback
Megan Lucero of The Bureau Local talking about local collaborations
Allison Shultes of the BBC News Labs, sharing projects from their #newsHACK on conversational UI, from just the day before
Emily Withrow of the Quartz Bot Studio, talking, yes, bots!
Throughout the day, we'll have the chance to discuss stories, strategies, and tools in sessions and over a group lunch.
Our rough schedule will be:
9:30-10am - registration, with light breakfast
10-10:30am - unconference brainstorming
10:30-10:45am - schedule creation and introduction to unconferencing!
10:45-11am - transition to first session
11am-12pm - first session, with sessions running in three rooms
12-1:30pm - group lunch
1:30-2:30pm - second session
2:30-3pm - break, with snack and ample time for conversation
3-4pm - third session
4-4:30pm - break, with snack and more conversation
4:30-5:30pm - final sesssion
5:30-6pm - wrap the day with thank yous and next steps
We expect it to be a busy, fun, and productive day filled with sharing about our work and building stronger connections with colleagues. Please register now and help us spread the word.
Journalism Tech Leading into MozFest
MozFest begins early this year with events all week. In addition to the OpenNews unconference, there are a bunch of journalism-related events in London that week. Know of another event? Let us know.
Journalism During MozFest
The Mozilla Festival this year features five topical spaces around facets of the health of the internet.
Each space will have a journalism-related session or two that explore everything from data analysis to secure communications with sources. Exploring the festival is a way to experience the many ways we shape the open web and how it, in turn, influences our work. In addition to the sessions, several of this year's speakers are journalists who will also discuss the intersection of journalism and technology.
You can find more details on the MozFest website or by following @MozillaFestival.
The latest from the OpenNews team
Read all our news in our OpenNews blog