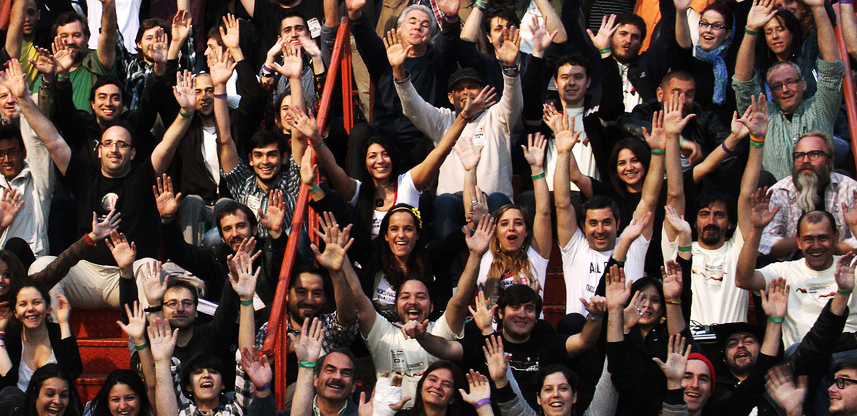 Journalism code ticket + travel scholarships
Events are a great opportunity to collaborate and connect with peers, but travel costs can be a hardship. Whether you're a developer at a newsroom without much budget for professional development, or a freelancer eager to learn more about journalism and code, OpenNews offers scholarships that cover registration plus $500 toward helping you get to an event.
We offer scholarships because events help people build skills and relationships—two things that transform how journalists work, strengthen their support networks, and open new doors no matter where they are in their career. Sharing knowledge between peers is one of the key ways our community builds expertise, so helping one journalist attend an event can help many journalists do better work.
When applications are open
Applications are open right now through midnight Eastern on Tuesday, Jan. 21, prioritizing events taking place through the first half of 2020. All applicants will hear back from us by Monday, Jan. 27.
Apply for an event scholarship!
We'll open a second round of scholarship applications midyear, prioritizing events in the second half of 2020.
If you'd like to get notifications about key dates in our scholarship program, Twitter and our newsletter are great ways to stay up-to-date!
What our scholarships offer
$500 toward the cost (travel, lodging, etc.) of attending an event on journalism and technology, or an open-source event where you'll build new skills or bring a journalism connection to a new community
Full coverage of your event registration fee (capped at $1,000, but most events in the community cost much less)
Who should apply
Anyone who is part of the journalism-code community, such as developers, designers, and data analysts working in newsrooms.
Anyone interested in learning more about the journalism-code community, such as people working in other areas of technology who want to share their development, design, or analysis skills with journalists.
People of color, women, and other underrepresented groups in journalism and technology are strongly encouraged to apply.
What happens after you apply
OpenNews staff reviews applications and notifies all applicants.
What happens after the conference
You tell us how it went! We'll send you a short follow-up survey and will be excited to check out anything you write or build after participating in the event.
FAQ
What types of events are covered for travel?
We'd love to consider any event that you think would help increase your participation in the journalism-code community. There are so many national, regional, and local opportunities to connect with people working on the same kinds of projects and problems that you are. Some of the events prior scholarship recipients attended include: NICAR, Internet Freedom Festival, Data Harvest, SND, ONA, IRE, NABJ, JAWS CAMP, AAJA, EIJ, New Now Next, TextAV, and TechRaking.
The scholarship program isn't at all limited to this list, but we hope it gives you some ideas about the range of community events. We're also open to conferences and workshops on specific themes. Many of these events can help people improve their coding, data analysis and visualization, or newsroom collaboration, but we also hear from applicants who want to study topics like social justice, census data, poverty and inequality, or education, just to name a few.
Can people outside of the U.S. apply for the scholarship?
Applications are open to everyone and we're open to events taking place anywhere. We prioritize applications from journalists of color and journalists from regional/local news organizations, but we're open to applications from anyone working at the intersection of journalism and technology.
When will I receive my scholarship?
When we notify scholarship recipients, we will include information about how to receive the scholarship funds. We'll ask you to fill out a form to receive a stipend and a form to gather your W-9 details, and then our administrators will process the payment. It may take a month or so for check processing.
What if I need more than $500 for my travel?
We're able to offer $500 scholarships at this time. Many events and professional organizations offer their own scholarship programs as well. Or maybe your event has things like a room-share board to help cut down on costs.
How do you decide who will receive a scholarship?
OpenNews staff reviews all applications. We prioritize applications from members of communities underrepresented in journalism and technology and journalists from small and non-coastal newsrooms. We also prioritize applications that will allow the person to attend an event where they are speaking or otherwise making a major contribution.
What about your conference, SRCCON?
We run a separate scholarship process for SRCCON events. You can find more details on the SRCCON website!
Who funds these scholarships?
Our scholarships are made possible by grants from the Democracy Fund and News Integrity Initiative, and donations from community members.
Questions?
If you have any additional questions that we didn't cover here, just email us.
The latest from the OpenNews team
Read all our news in our OpenNews blog